Chabahar port and its significance :
Chabahar port and its significance
In news:
PM Modi discussed Chabahar port with Iran President Rouhani on UNGA sidelines.
Important facts:
The leaders especially mentioned operationalising the Chabahar port and noted it's importance as gateway to and for the landlocked Afghanistan and Central Asia.

Modi reiterated India's support to giving priority to diplomacy, dialogue and confidence-building in the interest of maintaining peace, security and stability in the Gulf, which is of vital importance for India.

The meeting comes at a difficult time in the relationship between the two countries.
India has stopped orders for Iranian oil since May 2 following U.S. sanctions that kicked in last November, after it Washington pulled out of the Joint Comprehensive Plan of Action (JCPOA) , an international deal to limit Iran's nuclear program.
India was one of the countries that was given an exemption from these sanctions until early May.
Where is Chabahar port?
Chabahar Port is a seaport in Chahbahar in southeastern Iran. Its location lies in the Gulf of Oman.

Chabahar Port is the one and only Iranian port with direct access to the ocean. It lies in the Gulf of Oman.

It is a seaport in South-Eastern Iran.

It is the only Iranian port with direct access to the ocean. In the 1990's under the Ashgabhat agreement, India partially built the port with the intention of providing access to the Central Asian region and Afghanistan, bypassing Pakistan.

A series of agreements were signed by the Indian Prime Minister and his counterpart, the President of Iran in May 2016 in Teheran for developing the Chabahar port. This move was initiated to promote exports to Iran and also possibility of connectivity to the Central Asian region and Afghanistan.
Recent developments :
India, the world's third biggest oil consumer, meets more than 80 per cent of its oil needs through imports. Iran was its third largest supplier after Iraq and Saudi Arabia till recently.

Prime Minister Modi visited Tehran in May 2016 with an aim to craft a strategic relationship with Iran and expand India's ties with the West Asia.

During the visit, India and Iran signed nearly a dozen agreements, centrepiece of which was a deal on development of the strategic Chabahar port.

Later, India, Iran and Afghanistan signed a trilateral agreement providing for transport of goods among the three countries through the port.

In February 2018, Rouhani visited India, becoming the first Iranian President to visit India in a decade. During his visit, the two sides signed a dozen agreements.
Why this port is of interest to India?
Counter to Pakistan's Gwadar Port: India believes the port is critical to its interests and wants to develop it as a counter to Pakistan's Gwadar port which was built with Chinese assistance
Bypass Pakistan: The port will allow India to bypass Pakistan to transport goods to Afghanistan and Central Asia using a sea-land route
Helpful in maritime commerce: Chabahar Port lies in the Persian Gulf in Iran and will help India in expanding its maritime commerce in the region

It also provides opportunities to Indian companies to penetrate and enhance their footprint in the region

From Chabahar, the existing Iranian road network can link up to Zaranj in Afghanistan, about 883 kms from the port.

The Zaranj-Delaram road constructed by India in 2009 can give access to Afghanistan's Garland Highway, setting up road access to four major cities in Afghanistan — Herat, Kandahar, Kabul and Mazar-e-Sharif

Chabahar port will ensure in the establishment of a politically sustainable connectivity between India and Afghanistan

. This will in turn, lead to better economic ties between the two countries.

With Chabahar port becoming functional, there will be a significant boost in the import of iron ore, sugar and rice to India

.

The import cost of oil to India will also see a considerable decline. India has already increased its crude purchase from Iran since the West imposed ban on Iran was lifted.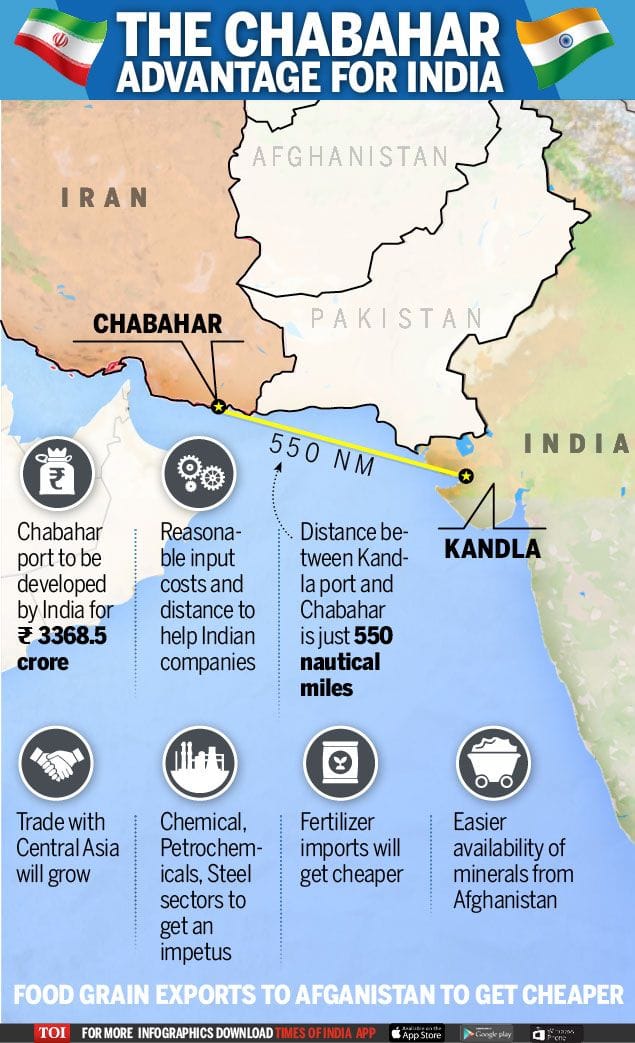 Benefit to Iran
As India is Iran's largest customer hence the memorandum will help to increase economic growth and investment.

It will provide regional growth and prosperity by employment generation and gdp growth.
Challenges in developing Chabahar Port for India
Competition from China: The India-China competition for regional dominance has a new playground in Chabahar as China is also busy developing Gwadar port and plans to use it to connect it to CPEC and has also completed the lease agreement for 40 years.
USA IRAN Tensions: Engagement over Chabahar can bring India and Iran closer which would impact the relations between India and USA as the tensions between USA and Iran over Iran s nuclear policy and enrichment program and the strict sanctions imposition and subsequent removal is yet to fully subside.
The Taliban Factor: The trade between Indian and Afghanistan which has high potential is still fraught with many logistical challenges even after bypassing the Pakistan factor
Source)
thehindu.com/news/national/narendra-modi-hassan-rouhani-discuss-chabahar-port-progress/article29524052.ece