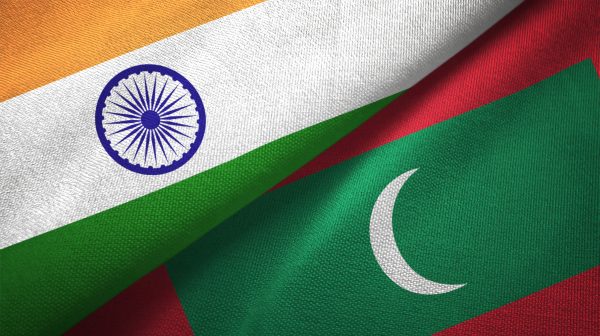 The Government of Maldives has said that it "strongly rejects attempts to spread false information" criticizing its ties with India, its "closest ally and trusted neighbor".
The India-Out Campaign
Maldivian protesters recently demanded the Solih administration to 'stop selling national assets to foreigners', implying India.
'India Out' campaign in Maldives had started sometime last year as on-ground protests in the Maldives and later widely spread across social media platforms under the same hashtag.

It is not related to people-to-people conflict (Indian diaspora) but is discontent on close relationship between Maldivian government & India.
Causes for the anti-India sentiments
Political instability:

The anti-India sentiment is nearly a decade old and can be traced back to when Abdulla Yameen Abdul Gayoom became president in 2013. He used anti-India sentiments for his political mobilization and started tilting China.

Controversy over helicopter gift:

Two Dhruv Advanced Light Helicopters (ALF) that were given by India to the Maldives for ocean search-and-rescue operations. Opposition tried to portray this as military presence in the country.

Confidential agreements:

Most agreements being signed between the Ibrahim Solih government and India are backdoor and has not been publicly discussed in the Maldives Parliament.

Alleged interference in domestic politics:

India being a big neighbour, there are unsubstantiated perceptions & allegations on Indian Diplomats stationed in Maldives interfering in Domestic affairs.
India-Maldives Relations: A backgrounder
India and Maldives are neighbors sharing a maritime border.

Both nations established diplomatic relations after the independence of Maldives from British rule in 1966.

India was one of the first nations to recognize Maldives' independence.

Since then, India and Maldives have developed close strategic, military, economic and cultural relations.

Maldivians generally regard Indians and India as a friend and trusted neighbor in the field economic, social and political.
Major hurdles:
Political Instability:

India's major concern has been the impact of political instability in the neighborhood on its security and development.

Increasing radicalization:

In the past decade or so, the number of Maldivians drawn towards terrorist groups like the Islamic State (IS) and Pakistan-based jihadist groups has been increasing.

Inclination towards terror:

Radicalism in the island nation has increased the possibility of Pakistan based terror groups using remote Maldivian islands as a launch pad for terror attacks against India and Indian interests.

Chinese affinity:

China's strategic footprint in India's neighborhood has increased. The Maldives has emerged as an important 'pearl' in China's "String of Pearls" construct in South Asia.
Recent gestures by India
[1] 2014 Malé drinking-water crisis
In the wake of a drinking water crisis in Malé in December 2014, following collapse of the island's only water treatment plant, Maldives urged India for immediate help.

India came to rescue by sending its heavy lift transporters like C-17 Globemaster III, Il-76 carrying bottled water.
[2] 2020 Covid-19 crisis
During the COVID-19 crisis of 2020, India extended help to Maldives in the form of financial, material and logistical support.

Also, the IAF airlifted 6.2 tonnes of essential medicines and hospital consumables to Maldives, as part of 'Operation Sanjeevani'.
[3] Greater Male Connectivity Project
India has recently announced the signing of a $500-million infrastructure project for the construction of the Greater Malé Connectivity Project (GMCP).

This infrastructure project, the largest-ever by India in the Maldives, involves the construction of a 6.74-km-long bridge and causeway link.
Why is Maldives significant for India?
Increasing maritime cooperation:

As maritime economic activity in the Indian Ocean has risen dramatically in recent decades, the geopolitical competition too in the Indian Ocean has intensified.

Toll Gate in Indian Ocean:

It is situated at the hub of commercial sea-lanes running through the Indian Ocean. More than 97% of India's international trade by volume and 75% by value passes through the region.

Naval cooperation:

Maldives is an important partner in India's role as the net security provider in the Indian Ocean Region.

Important SAARC member:

Besides, Maldives is a member of the South Asian Association for Regional Cooperation (SAARC) and the South Asia Subregional Economic Cooperation (SASEC).

People To People Contact:

There is a significant population of Maldivian students in India. They are aided by a liberal visa-free regime extended by India. There is also medical tourism.

Major destination for Tourists:

Tourism is the mainstay of the Maldivian economy. The country is now a major tourist destination for some Indians and a job destination for others.