London Engagements "EMPOWER IAS"
Context:
The External Affairs Minister will be visiting London to participate in the G-7 Foreign Ministers meeting.
More in the News:
India has been invited as a guest country.

Also have bilateral meetings in London, PM Modi will have virtual bilateral meetings with British counterparts.
Why in the News:
The United Kingdom has invited Indian Prime Minister as a guest to attend the 47th G7 summit that is scheduled to be held in June 2021.
G7
The Group of Seven (G7) is a forum of the world's seven largest developed economies whose government leaders meet annually to discuss international economic and monetary issues.

The G-7 has its roots in an informal meeting of the finance ministers of France, West Germany, the U.S, Great Britain, and Japan (the Group of Five) in the wake of the 1973 oil crisis. That, in turn, inspired the French President to invite the leaders of those countries, and Italy, to Rambouillet in 1975 for further discussions on global oil.

The next year, Canada was also invited to join the group and the first meeting with all G-7 nations was hosted by the United States which was held in Puerto Rico in 1976.

Summits are held annually and hosted on a rotation basis by the group's members.

The 2018 summit was hosted by Canada in Quebec from June 8-9.

The 45th G7 summit was hosted by France from August 24-26, 2019, in Biarritz in Nouvelle-Aquitaine, France.
Members
The G7 members are recognized as the seven wealthiest and most advanced nations in the world. The members are:

France,

Germany,

The United Kingdom,

Italy,

The United States of America,

Canada,

Japan

The European Union is sometimes considered an eighth member of the G-7, since it holds all the rights and responsibilities of full members except to chair or host the meeting.
G7 47th Summit
Australia and South Korea are also guest countries apart from India.

It will be first in-person G7 summit in almost two years

Possible Outcomes:

Uniting world democracies against the Covid-19 pandemic.

Create a greener and prosperous future.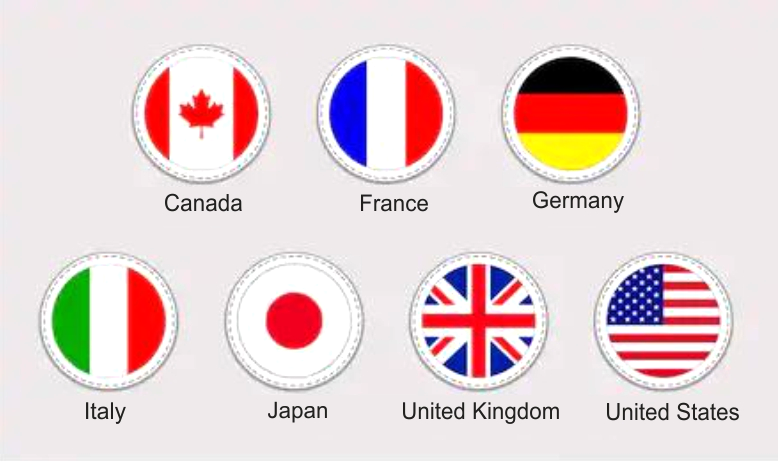 India's agenda
Institutionalising D10 group (top 10 Democracies group) for the development of the 5G technology as well as future communication technology.

Compulsory licencing of the Covid-19 vaccines, as all major and advanced nations are part of the G7 group.

To ensure fair and equitable allocations of the vaccines and its resources to end the pandemic on the whole.

Strengthening claims of UNSC permanent membership of India by building up overall consensus among the G7 as well guest nations.