Net-Zero Emission Target "EMPOWER IAS"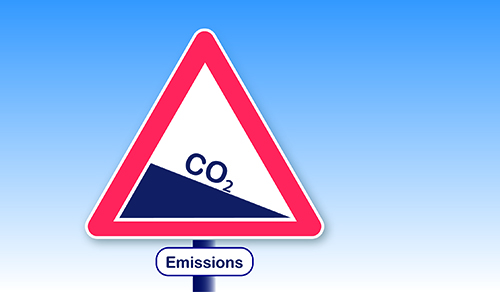 Context:
India should adopt the net-zero emission target like others. It will lead to simultaneous attainment of net-zero emission and economic growth. Some temporary challenges may arise, but they can be tackled with robust policy measures.
Background:
Recently 58 countries have made a commitment to attain net-zero emission by 2050. They currently emit more than 50% of Greenhouse gases (GHGs). So, being a responsible nation, India also needs to adopt a net-zero emission target.
Net-Zero Emissions
About:
'Net zero emissions' refers to achieving an overall balance between

greenhouse gas emissions

produced and greenhouse gas emissions taken out of the atmosphere.

First, human-caused emissions (like those from fossil-fueled vehicles and factories) should be reduced as close to zero as possible. Second, any remaining GHGs should be balanced with an equivalent amount of carbon removal, for example by restoring forests.
Time-Frame:
The time frame for reaching net-zero emissions differs significantly if one is referring to CO2 alone, or referring to all major GHGs (including methane, nitrous oxide, and HFCs).
For non-CO2 emissions, the net-zero date is later because some of these emissions — such as methane from agricultural sources — are somewhat more difficult to phase out.
In scenarios that limit warming to

1.5 degrees C,

carbon dioxide (CO2) reaches

net-zero on average by 2050.

Total GHG emissions reach net-zero between 2063 and 2068.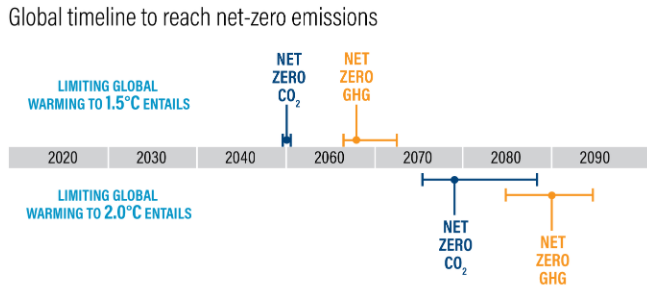 Global Scenario:
As of June 2020, twenty countries and regions have adopted net-zero targets. This list only includes countries that adopted a net-zero target in law or another policy document.

The Kingdom of Bhutan is already carbon-negative, i.e. absorbs more CO2 than it emits.
Indian Scenario:
Emissions:

India's per capita CO2 emissions – at 1.8 tonnes per person in 2015 – are around a ninth of those in the USA and around a third of the global average of 4.8 tonnes per person.
However, overall, India is now the planet's third-largest emitter of CO2, behind China and the USA.

Debate around Commitment:

There is global pressure on India to commit net-zero emissions by 2050.

On one hand, few argue that India should pledge to reduce its "net" emissions (emissions minus uptake of emissions) to zero by 2050, backed by a climate law. This will make India "hypercompetitive", attract investment and create jobs.

For example,

more ambitious policies to promote electric vehicles along with cleaner electricity and hydrogen electrolysis can create jobs in the auto manufacturing industry and in the electricity and construction sectors

While, on the other hand, there is a long-standing principle of "common but differentiated responsibility" that requires richer countries to lead and argue against any pledge that risks prematurely limiting Indian energy use for development.
Why India Need to adopt net-zero emissions?
IEA (International Energy Agency) findings indicate that the majority of India's future emissions are supposed to come from things that are yet to be made.

This includes transport infrastructure, buildings, industry, etc.

Therefore, adopting net-zero emissions will give the country an opportunity to build a cleaner economy.

However, India did not adopt a net-zero emissions target due to its goals related to economic growth.
How Net-zero emissions can fuel economic growth?
Although, some experts believe that simultaneous attainment of net-zero emissions and economic growth is possible.
Adoption of clean sources of energy will reduce the water demand by thermal power plants. It is expected to reduce from 2.5 billion cubic metres per year(bcm) to less than 1 bcm in 2050.

Reduction in carbon emissions will result in reducing pollution thereby improving the health of the masses.

It will also generate 24 million jobs in 15 years across multiple sectors.

For instance, promoting e-vehicles, clean energy, and hydrogen electrolysis can create jobs in the auto manufacturing, electricity, and construction sectors.

Electrolysis is the process of using electricity to split water into hydrogen and oxygen.

Hydrogen gas released in this way can be used as hydrogen fuel.

Switching to clean fuels will also reduce the country's crude oil import bill.
Challenges in adopting Net-zero emission targets:
At present, nearly 25 % of government revenue comes from the energy sector (including the taxes on fuel). So, phasing out of Fossil fuels will reduce the government's tax revenue.

A job reduction might arise in the vehicle maintenance and repair sector.

This will happen as e-vehicles contain fewer engine components than a traditional fossil fuel-based vehicle.

Similarly, learning new techniques to repair e-vehicles will also need significant time.

There are certain issues with new jobs created. Such as,

The new job may not be created in the same place where job losses occurred. For example, A coal-based power plant worker working in coal collection will lose the job.

However, the alternative employment created by the adoption of new technologies may remain inaccessible to vulnerable sections(especially women).

For example; new jobs might arise in battery fabrication. Coal workers lack expertise in this field.
Way Ahead:
The focus should be on greater electrification. Further, The government has to encourage using hydrogen as a fuel in industries like cement, iron and steel, and chemicals. Further the current coal plants can be pre-retired to improve energy efficiency.

A carbon tax can be imposed on the industry to offset the tax revenue loss. The government has to start initially with the amount equivalent to the present Coal Cess. The amount can be increased gradually to Rs. 2500 for per ton emission by 2050.

The portion of carbon revenue can be used for supporting poor households. Especially for those who are badly hit by the emission reduction strategies.

The government has to encourage all states and UTs to make their respective carbon-neutral plan.

The UT of Ladakh and Sikkim state are already planning such a carbon-neutral plan.

Further, at the local level cities like Bengaluru and Chennai, the Panchayat of Meenangadi in Wayanad, Kerala also planning such a carbon-neutral plan.

Apart from strong climate policies, the government has to focus on strong social policies and local institutions. This will ensure that the clean energy transition is fair and just.