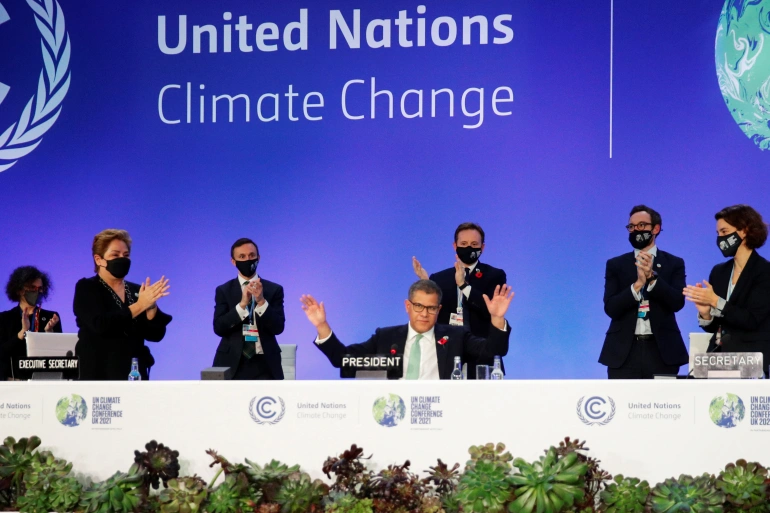 CONTEXT
The Glasgow Climate Pact was adopted on November 13. It is a mixed bag of modest achievements and disappointed expectations. The achievements include consensus on a target of keeping global temperature rise down to 1.5 degrees Celsius with the Paris Agreement target of 2 degrees being no longer appropriate to the scale of the climate emergency. The notional target of 2 degrees remains but the international discourse is now firmly anchored in the more ambitious target
ABOUT THE NET ZERO TARGETS
What is net zero?
Net zero refers to situation when the greenhouse gas emissions are balanced by the equivalent absorption of the same from the atmosphere, by natural measures like sequestration by forests, oceans or it may be physical removal by futuristic technologies

Target of Paris Agreement

According to experts a four-fold acceleration over next decade is needed to meet the targets of Paris agreement of reducing the global temperature rise to not more than 1.5 degree Celsius as compared to pre-industrial levels

Commitment of more than 70 countries to net zero emissions could prove to be an effective step to achieve this target

At COP 26 conference in Glasgow Prime Minister committed ' panchamrit pledge'(5 commitments)

1. India joined other G20 countries in target of achieving net zero emissions till 2070

2. One billion tonne reduction in carbon emissions by 2030

3. Raising non fossil fuel energy capacity to 500 GW by 2030

4. Reduction of carbon intensity of its economy by 45% till 2030

5. 50% of energy needs to be met by renewables till 2030

World energy Outlook report by international energy agency (2021)

According to the report, energy sector accounts for three quarters of greenhouse gas emissions globally that has which has raised average temperature 1.1 degrees celsius higher than pre-industrial levels, so energy sector has to be at heart of solution to tackle climate crisis

The report also suggests that countries pledging to reach net zero emissions now count for 60 to 70% of today's global GDP and energy related carbon dioxide emissions and one third of energy related methane emissions

The report has warned that rapid but uneven economic recovery from pandemic induced recession has put strains on energy system and 2021 has seen second largest annual increase in carbon dioxide emissions in history
SIGNIFICANCE FOR INDIA
Topography of India
Himalayan glacier, 7000 km long coastline and forest areas with resources like coal and iron ore make India uniquely vulnerable to climate change.

Population Growth

Vast number of people especially the poor remain unprotected from the devastating effects of climate change

Climate change is already affecting poor farmers who cannot afford modern technology , people who cannot afford safe drinking water even becoming the cause of death

Economic reasons

According to study conducted by IMF ( International Monetary Fund), if emissions continue to rise this century India's real GDP per capita could fall by 10% by 2100

Signal to rest of the world

India is the third largest emitter in the world and it has been refusing the net zero targets since long.

The commitment shows that despite significant development changes and pandemic induced economic challenges India is stepping up for global cause
BENEFITS
Job Creation
According to Mission 2070: A Green New Deal for a Net Zero India ,report by World Economic Forum (WEF), decarbonisation has a potential to create 50 million new jobs.

Renewable energy technologies are more labour intensive than conventional ones. Small scale hydro, rooftop solar and biomass create most jobs per unit of installed capacity.

Growth

The report visualizes India becoming world's first US $5 trillion and then $ 10 trillion off carbon economy.

According to WEF report, by following the right path India can leverage green growth to add dollar 1 trillion to its GDP by 2030

Global Green Innovation Hub

India has once in a generation chance to emerge as a global hub because of its nascent stage of green industrial revolution

According to estimates, 60% of India's capital stock factories and buildings that would exist in 2040 are yet to be built, so there is a potential to leapfrog into new green technology rather than refitting the obligations

Advantage to Indian exports and market

With green stamp , exports could find better market accessibility and could be more competitive if carbon tax is imposed in future.

Opportunities of new markets and international competition which also results in domestic industry being more efficient, FDI inflow and technological know-how are some of the other benefits.
CHALLENGES
Peaking year and achievement of net zero target
Us announced its peaking year as 2007 and expects to be net zero by 2050, United Kingdom peaked in 1973 but expect to become net zero by 2050

According to study peaking year of India would be 2040 and for 2070 to be net zero year, reduction the emission intensity by 85% is required, so far reduction has been 24% from 2005 level

Funding

Two way Street - money should be calculated as carefully as we count emissions

Prime Minister has called for contribution of dollar 1 trillion climate finance by developed countries to help less developed or developing countries decarbonize their economies while growing.

The commitments of climate finance in the past by developing have not been fulfilled.

Energy demands

India's large dependence on fossil fuels like oil and coal, almost 70% of energy needs are met by coal. Energy demand is expected to rise sharply over next decade as economy continues on growth trajectory

Technological roadblocks

Affluent countries would be able to bear the high initial research and development as well as the other overhead cost.

India needs to incentivize research and development, attract private sector investment and green technology business incubators and also the innovative foreign business to expand their presence in India.

Power distribution reforms

The finances of power distribution companies should be improved to finance the grid upgrades which are essential for scaling up renewable energy

Major reforms required are

independent regulator in sharing market pricing of power tariff

Incentives that speed up smart metering and plug transmission and distribution losses

Policy interventions like privatisation of discoms

Multistage process

Federalism- with different states having different policies and being at various stages of transition to green technology, it would require a coordinated framework to achieve the national target

Financial constraints

fiscal burden on the government has already increased due to slow economic activity after the lockdown, spending in the renewable sector would further add to it.
WAY FORWARD
3 – Pronged approach to decarbonise energy sector:
replacement of fossil fuels with renewable options

reduction of CO2 emissions

CCUS- Carbon capture, use and storage technologies

Transportation

Immediate measures- Shift from from road to rail transport , fuel diversification with more focus on green fuels like bio fuels, petrol blending, CNG, LNG

Long term measures- Electric vehicles, Hydrogen based heavy mobility

Agriculture

The agriculture sector is the largest contributor to nitrous oxide (N2O) and methane emissions.

Adoption of sustainable agricultural practices and generating awareness among farmers is the need of hour

Circular Economy

Adoption of circular economic practices by the industry can help in increasing the output and at the same time help in reduction of green house gas emissions. This could help to maintain a balance between increased economic activities and achieving net zero targets.